bus schedule
Updated transportation schedules: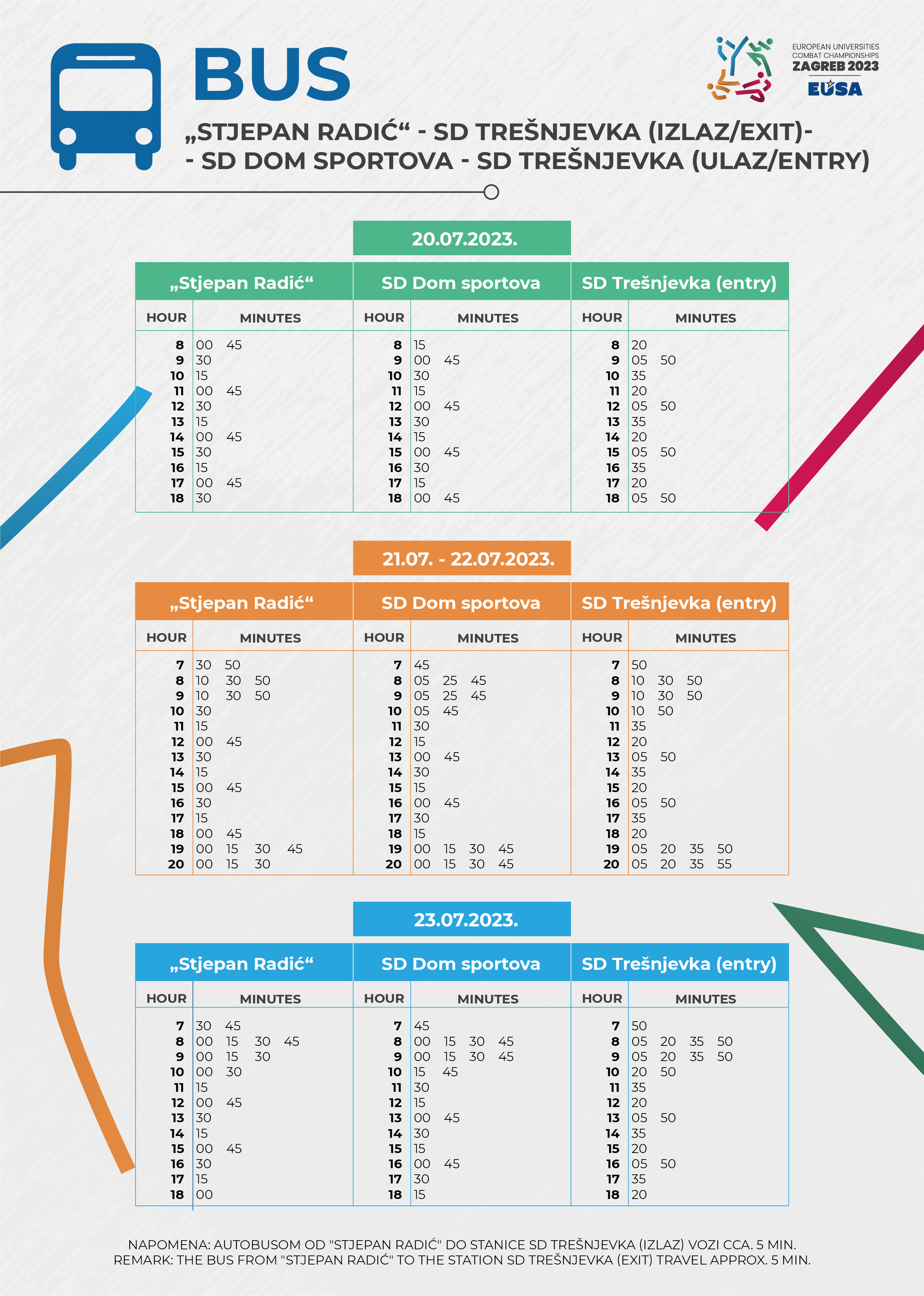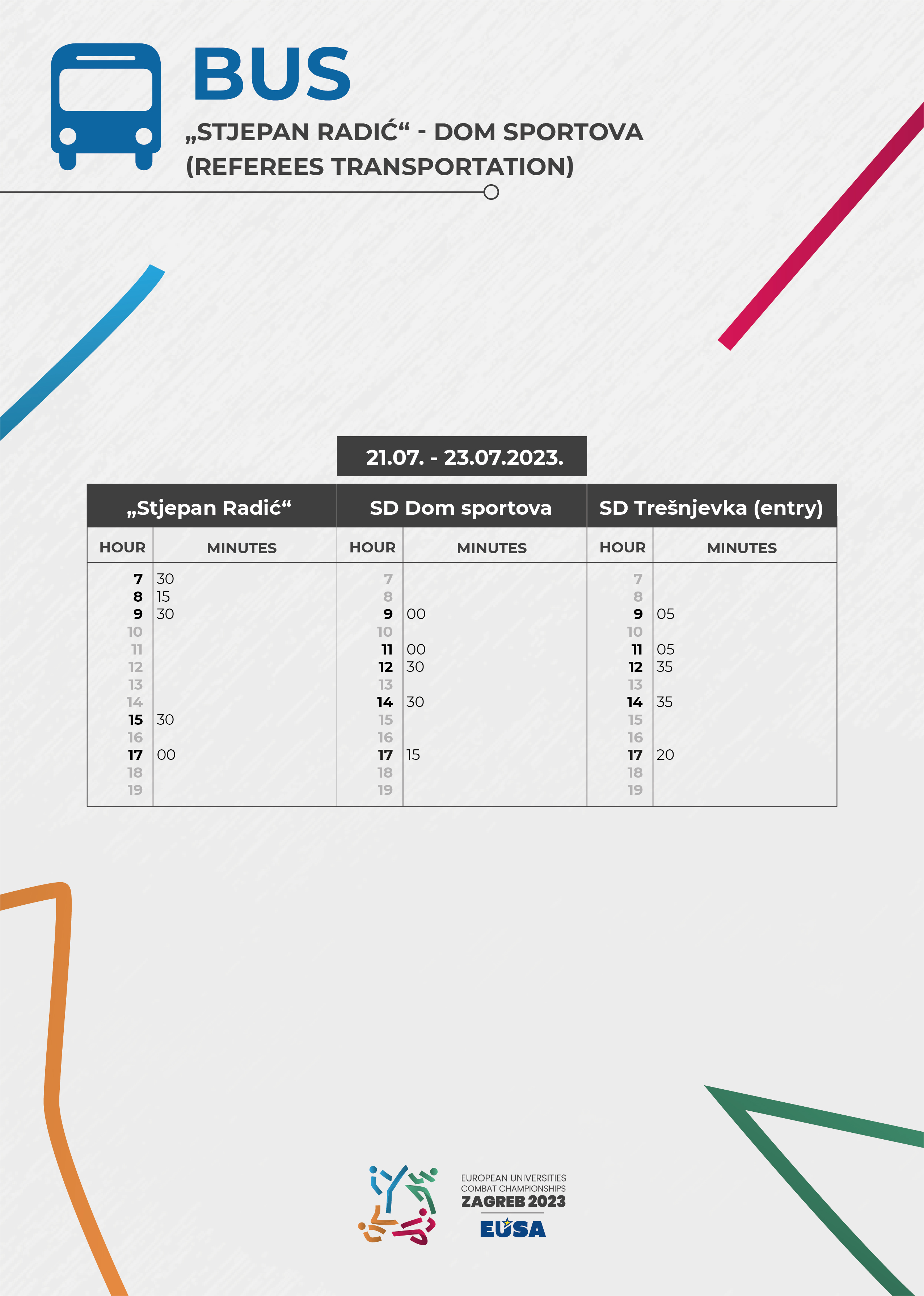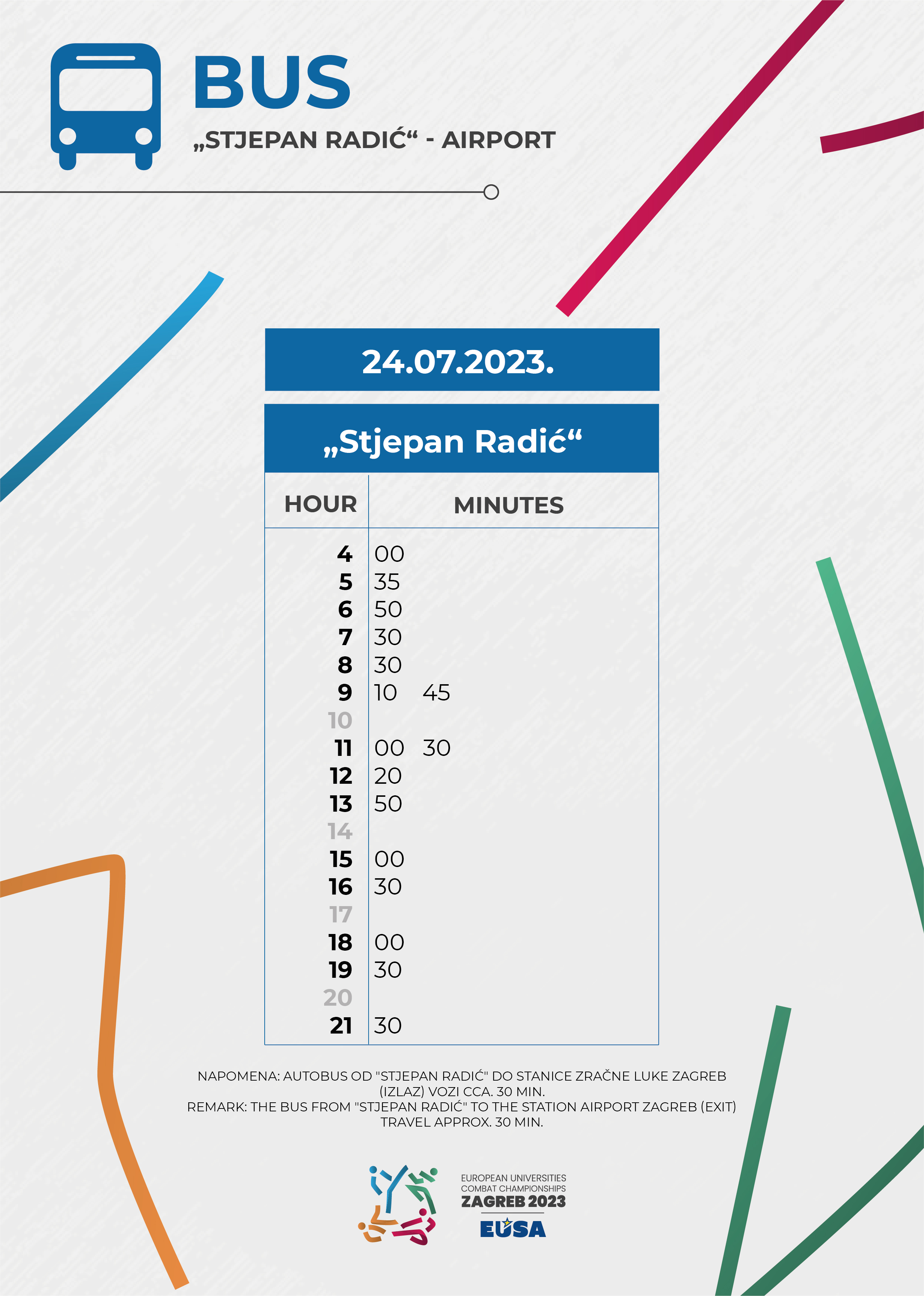 ---

---
 Zagreb 2023 Transportation Department Contact: Ms Radica Magušić
E-mail: transport.combat2023@gmail.com
Phone: 00385.(0)97.677.9322.
---
Transportation services
Transportation services from / to official welcome points and from / to sports venues during official competition days will be provided free of charge for all participants. The transportation from/to the catering and opening ceremony venue will not be needed thus all three facilities are within a radius of less than 100m from accommodation facilities.
Local Transportation
For all students and volunteers accommodation is provided at the same location (Athletes Village) → the main transportation hub.
All venues are located in a radius of 3 kilometres from the Athletes Village.
Location of the entrance/exit bus stops (to sports facilities) is next to Athletes Village.
All buses are low floor buses, air-conditioned and fulfil all demands for Zagreb 2023 participants, with total minimum of required 75 passenger positions.
Buses will be labelled for better recognition and for better visual communication with participants and for easy distinction among regular ones
Parking slots are next to Athletes Village and within village (with limited space) and are provided free of charge for all guest and team members coming with personal buses/vans/cars.
---
Which form of transportation will be used during EUC depends on the target group of participants, frequency and duration of the journey, and the flexibility and type of the means of transportation.
Participant
Category

Transportation

1. Athletes / coaches /
 other team members

Regular lines for the competitors (shuttlebuses), air conditioned buses

2. Athletes in the role
of spectators

Regular lines for the competitors (shuttlebuses),air conditioned buses

3. Referees

Special lines - combi-vans (as needed)

4. Volunteers

Regular lines for the competitors (shuttlebuses), special lines - combi-vans

5. EUSA TD
and Assistant

Dedicated cars with a driver on disposal 24/7

6. EUSA family
and VIP

Dedicated cars with a driver on disposal 24/7
---
Official welcome point
The traffic structure of the capital city of Croatia, Zagreb enables fast and safe arrival of the EUSA Combat 2023 participants by land, railway or air traffic and easy organization of the participants' transportation atthe time of their arrival and departure, during the sports competitions and during participants' freetime. Traffic terminals where the arrival and departure of the EUC 2023 participants is expected:
Zagreb International Airport

The construction of a new terminal finished in 2016 and enables the receipt of up to 5 million passengers a year. There by the Zagreb Airport Franjo Tudman became the main airtraffic centre in this part of Europe. By regular daily direct flights with major airlines Zagreb is connected with whole Europe.
Zagreb Main Railway Station

The main railway station in Zagreb is the largest railway terminal in Croatia. The railway company Hrvatske zeljeznice is characterized by the favourable traffic position and by theintegration of their rail network in the European railway network.
Bus Terminal Zagreb
The bus terminal in Zagreb is the biggest and most modern bus terminal in Croatia facilitating fast and safe transport of passengers to all destinations in Croatia and to all major European cities.