Become part of our amazing volunteer crew, get to know different aspects of multisport event organization, and join European Universities Combat Championships 2023 team!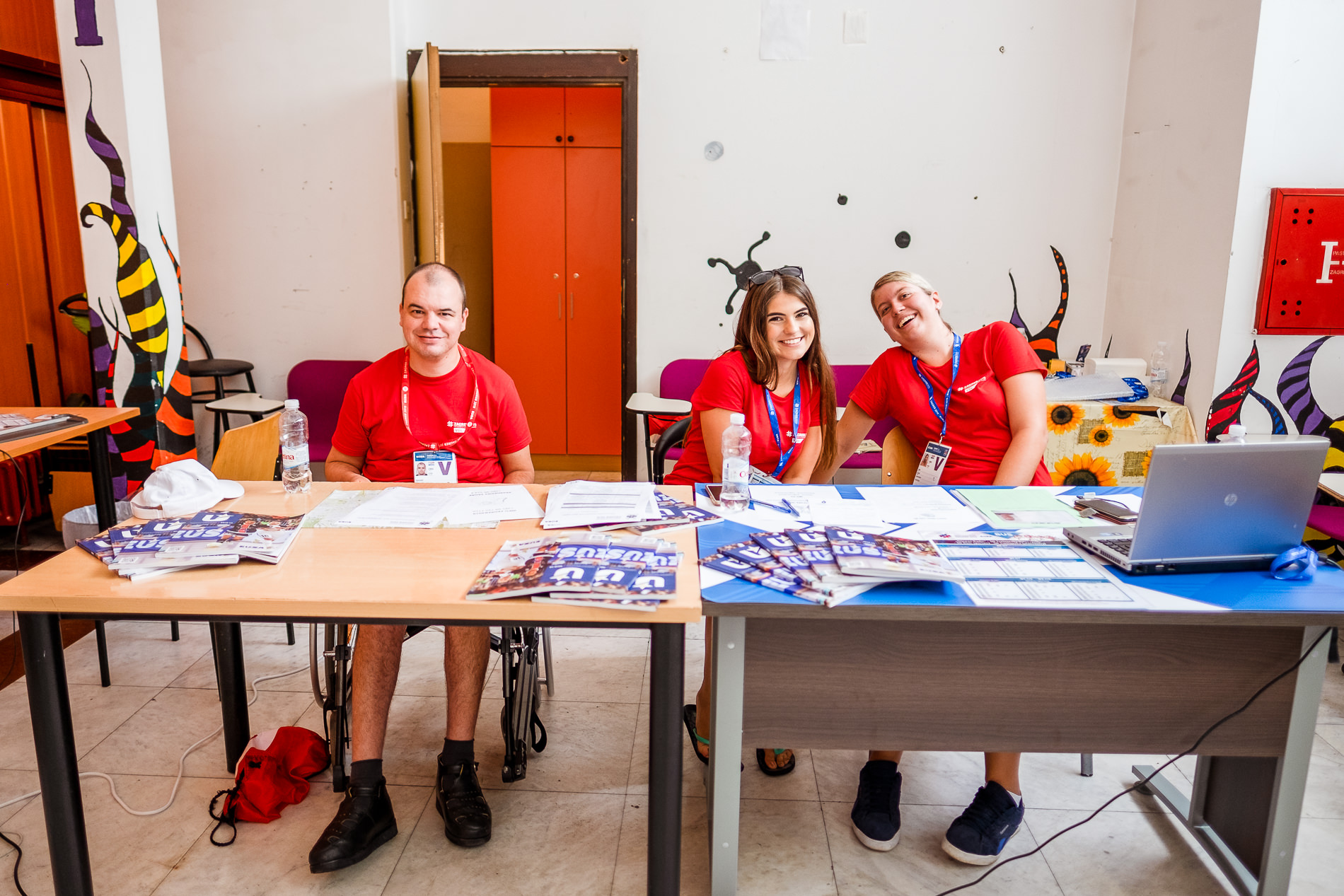 It is an opportunity to work on yourself, work on your relationship and communication with other people, improve your English, and most of all - have fun.
We offer an unforgettable experience, work in an international environment, recognition and improvement of the skills and talents you already possess, and many many new friendships.
This event is unthinkable without smiling faces from volunteers. Don't hesitate – help us build new memories together at the 2nd edition of the biggest European Universities Championships of summer 2023!
---
Apply here: https://forms.gle/smC7TH1CHM7AdpuA8
---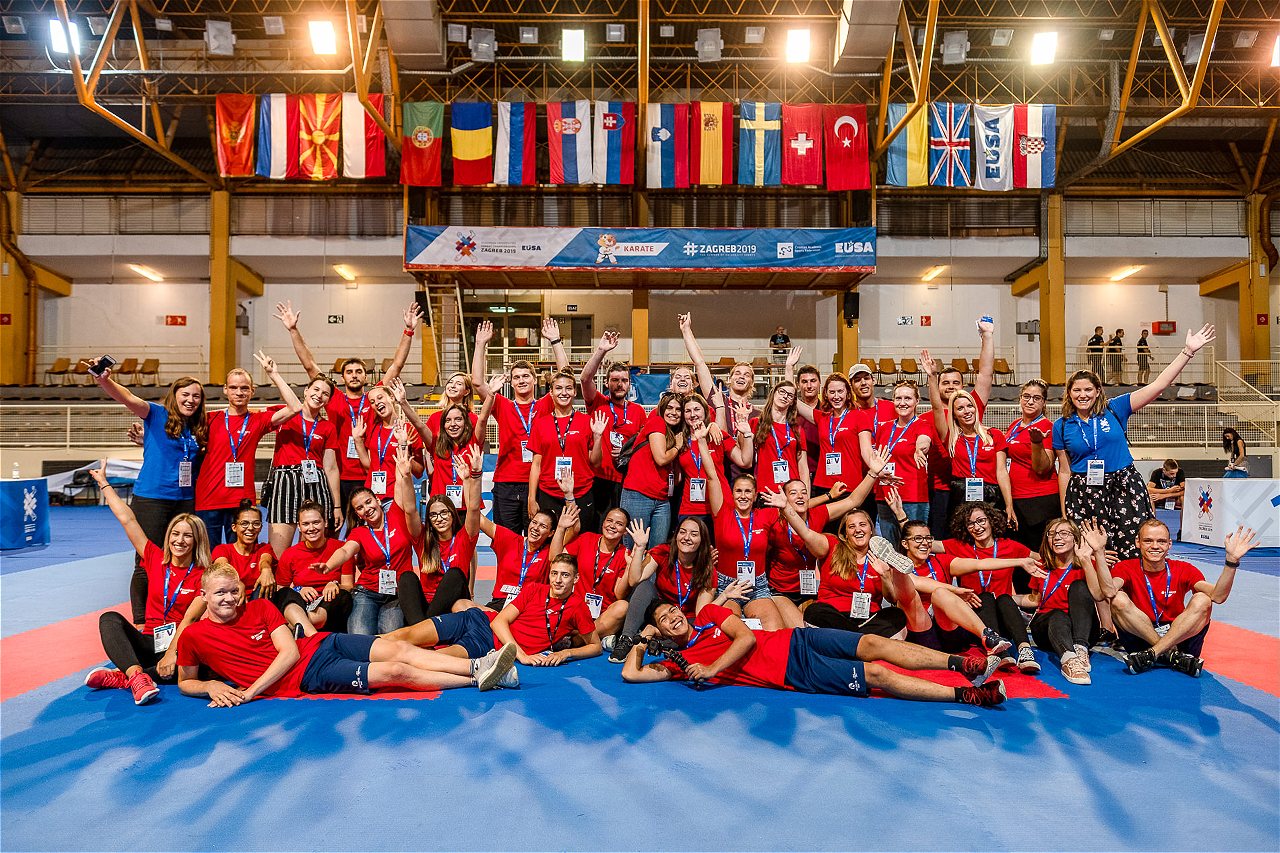 ---
 COMBAT 2023 VOLUNTEERS FAQ
---
GENERAL INFORMATION
How many volunteers will be involved at EUSA Combat Championships?
We are planning to involve around 150 volunteers participating in the organization of the EUSA Combat Championships. With over 1,200 competitors in 4 sports, we will need all the help we can get.
When can I apply? How far in advance do I have to apply?
You can apply at any time, until the April 30th 2023.
Which teams can I join?
You can join one of our 8 teams:
Media team: Media volunteers will support the work of the press office and media department, as well as create press materials themselves. We will also be looking for photographers and people interested in creating films or content for social media.
Medical team: Volunteers in this team will work closely with the doctors. Only people with a medical field of study or  experience in this field can apply for this team.
Team for Protocol and medal ceremonies: Volunteers in this team will help with the implementation of the opening and closing ceremonies and support medal ceremonies of individual disciplines 
Information team: Volunteers in this team know everything :) They will be in charge of the smooth flow of information and responsibilities towards other teams, but most importantly towards the athletes. Volunteers should know English.
IT and accreditation team: Volunteers in this team will be in charge of data entry and processing, creating accreditations before the start of the competition, and taking care of IT support during the competition.
Sports team: Volunteers in this team will be assigned to directly handle the sports operations of a given discipline - tables, court area or IT results system,  welcome the teams at the sports fields and take care everyone is ready for their fights.
Transport team: Volunteers in this team will help with coordinaton of transport at the event and schedules.
Logistics team: Volunteers in this team help with branding, taking care of the warehouse, taking care of what enters/leaves the warehouse and organizing a delivery of all the necessary things to the venue.
4. Is there any advantage to applying early?
No, the selection will be made regardless of the date of application. We would like you not to wait until the last possible moment, as we will be able to process requests faster that way and everyone will be informed sooner.
5. Do I need to stay during both events; can I be a volunteer for just a couple of days?
One of the most important expectations from volunteers is full availability during the EUSA Combat Championships.
6. Do you really provide accommodation for volunteers free of charge?
Yes, if you live outside Zagreb, we will provide you with accommodation and meals during your shifts, but you need to cover your travel expenses and come to Zagreb.
Apart from the above, you will also receive the following:
a) Accreditation for the whole competition, which also allows free use of public transportation.
b) A volunteer official Tshirt;
c) A certificate of participation.
Will I receive a certificate for my participation?
Yes, you will receive a certification from the organizer thanking you for your help and participation.
We will specify the number of volunteer hours and the level of difficulty of volunteer position.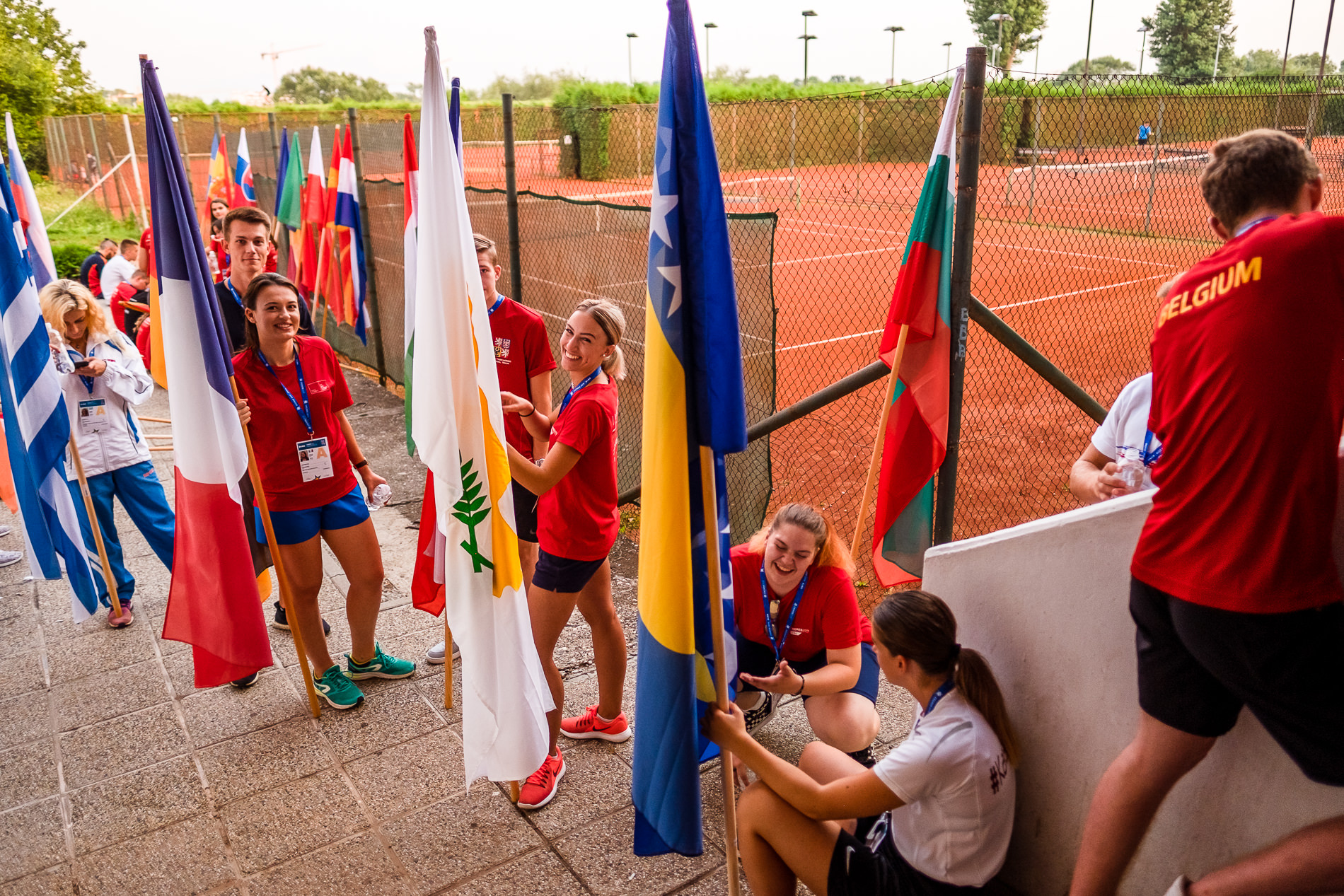 RECRUITING PROCESS
How do I become a volunteer for EUSA Combat Championships?
You can apply through our web-page. At combatsports2023.eusa.eu select Volunteers and then Register here.
Once you have filled out the fields, click 'Submit' and you are done! The rest of the work is up to us.
How does the volunteer selection process work?
The selection process consists of 3 stages: Online registration, Interviews, Training.
If I am not selected, do I still have a chance to participate at EUSA Combat Championships as a volunteer?
After the interview, you will get a response if you passed the registration process. In case your first-choice positions are taken, your name will be put on a waiting list, still with a chance to volunteer!
What about my personal data? Are you giving them to someone?
Collection, storage, exchange and use of your personal data is protected and used only for organization of sport events in CASF. Sending e-mail to sport@unizg.hr you can request a list of your data in the database and request a correction of the same. In case you do not want your information used to inform about the activities of Croatian   Zagreb University Sports Association please send e-mail to sport@unizg.hr
---
REQUIREMENTS
What requirements do I have to meet? Do I need specific skills or qualifications to volunteer?
All volunteers need to be enthusiastic and motivated, for some volunteer positions it would be an advantage to know a few foreign languages (info point, administration office).
Do I need to be able to speak the local language?
No. English will be enough. But of course, knowing Croatian will be an advantage.
Can I be a volunteer if I am under 18 years old?
If you are Croatian, you can still be a volunteer, but you will need your parents' consent if you are older than 15 years and younger than 18 years in July 2023.
If you are from another country, then you need to be over 18 years old in July 2023.
Do I need visa for volunteering at EUSA Combat Championships?
If you are a citizen of a European Union country, then no, you do not need a visa to enter Croatia. Otherwise, if you are from a country whose citizens need a visa to enter Croatia, you will need one.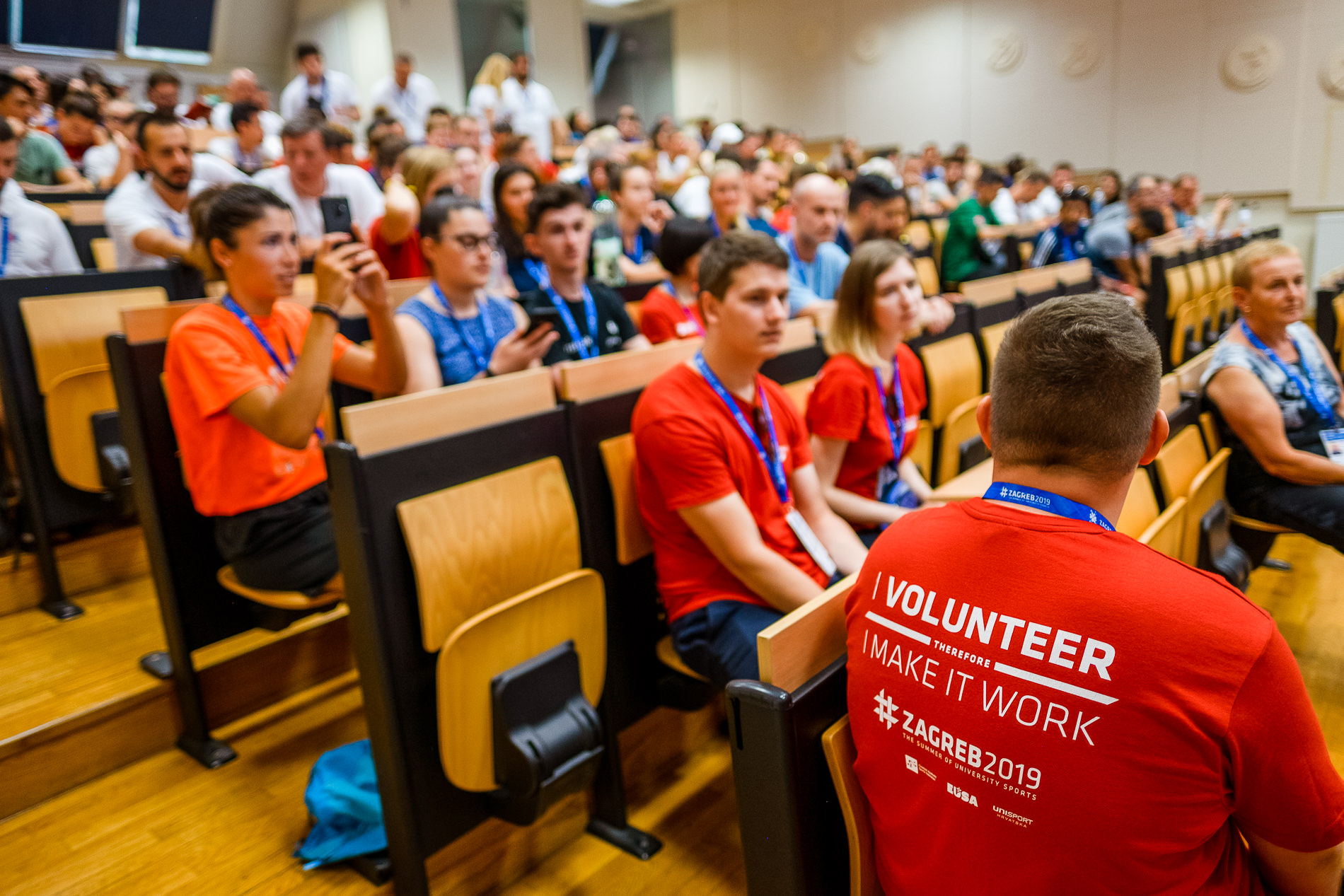 OTHER
What are the accommodations and meals like at EUSA Combat Championships?
In Zagreb, volunteers will be accommodated in student dormitories and meals will be provided in student's cantinas. The standards will be the same for athletes and volunteers.
What happens if I have problems while I am EUSA Combat Championships?
You can always turn to the organizers for advice or help. We will have administration team, and also, you can always talk with your team coordinator.
What happens if I cannot manage abroad and abandon my participation at EUSA Combat Championships?
Volunteers are free to leave at any time without suffering any financial consequences. However, before you decide to take this step, we would like you to explore other options. Speak with your team coordinator or the organizer; speak with your friends, parents and other people you trust. Try to solve the problem, but if all else fails and you need to take that drastic step … you are free to do so.
Does volunteering at EUSA Combat Championships count towards my university degree?
No. Volunteering at EUSA Combat Championships is a voluntary service - it is not an internship or a university degree course.
Would it be possible to watch the matches that I am interested in?
Yes. You will get access to the stands to view the competition during breaks between your shifts as a volunteer.
Can I go sightseeing during my volunteering?
Yes. It is up to you how you spend your time between your shifts.
---
Apply here: https://forms.gle/smC7TH1CHM7AdpuA8
---